The Dangers of Indoor Tanning [Infographic]
It's no secret that excessive exposure to ultraviolet (UV) rays can have potentially dire consequences; the data is everywhere. Yet according to the latest research, a staggering number of adults and even teens still seek out tanning beds year-round. As we head into warmer weather, consider all the facts before seeking out indoor tanning.
In a 2010 survey, 5.6 percent of adults reported using indoor tanning services during the previous year. The highest prevalence, 32 percent, was among white women ages 18 to 21. White women ages 22 to 25 were next at 30 percent. Women aren't the only ones engaging in indoor tanning, however. One 2013 study found that 39 percent of men younger than 40 reported using indoor tanning during their lifetime.1 Researchers have determined that indoor tanning facilities outnumber Starbucks cafes.2
Click on the "+" signs below for some eye-opening facts about tanning.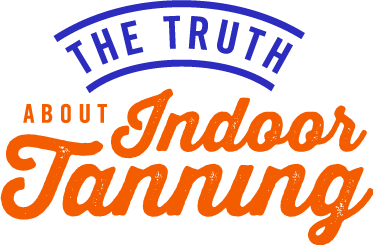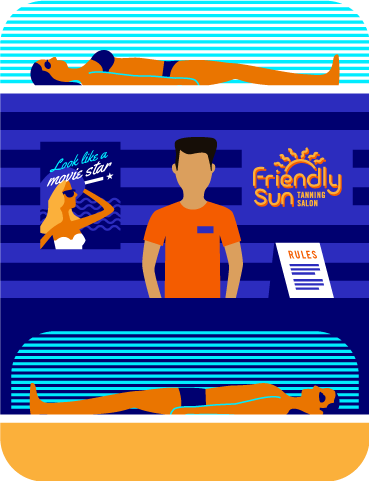 3 4
Why Do People Still Tan?
The reasons why people tan, despite the well-known risks, are varied. Some believe there are health benefits associated with indoor tanning. Among certain groups, there is a perception that people simply look better with a tan.5
One research study found that poor body image and depression are associated with indoor tanning behaviors. This same study showed that higher levels of depression go hand in hand with more frequent indoor tanning.6 Researchers have also discovered that among high-risk individuals, tanning may be a bona fide addiction.7 For example, one study found that women who practiced indoor tanning were more likely to also smoke or exhibit symptoms of alcohol-use disorders.8
Separating Myth From Fact
There are still a fair number of misconceptions surrounding indoor tanning and tanning in general. Below, we address some of the most common.
Myth: Indoor tanning is safer than the sun.
Fact: According to the American Cancer Society, using indoor tanning beds is no safer than tanning outside under the sun's rays. Regardless of their origin, UV rays are the culprit behind most skin cancers and can also lead to long-term skin damage as well as premature aging of the skin.
Myth: Young people don't get cancer.
Fact: A 2014 study found that indoor tanning is partially to blame for an increase in melanoma cases among young adult women over the past decade. Indoor tanning before age 35 increases the risk of melanoma by 59 percent. Prior to the age of 25, it boosts the risk of basal cell carcinoma by 40 percent and squamous cell carcinoma by 102 percent.9
Myth: Men and women are at equal risk for developing skin cancer.
Fact: According to the Skin Cancer Foundation, men are at the highest risk for skin cancer due to a number of factors, such as more time spent playing sports and working outdoors, failure to get routine skin cancer screenings, and neglect when it comes to using sun protection techniques like sunscreen. More than 8,600 American men will die this year from melanoma alone.
Myth: Having a "base" tan can prevent sunburn.
Fact: Many people think that achieving a "base tan" will prevent sunburn. This mindset may prompt them to seek indoor tanning services prior to a vacation. However, a 2013 study confirmed that tanning via an artificial UV source does not prevent sunburn at all. In fact, indoor tanning was associated with a marginal increase in risk. 10It's important to remember that a tan is a physiological response to injury from UV rays, indicating that damage has been done to the skin.
Myth: Indoor tanning doesn't cause melanoma.
Fact: Use of an indoor tanning device is associated with a 20 percent increase in the risk of developing melanoma skin cancer.11 Overall, more than 400,000 cases of non-melanoma skin cancer and more than 6,000 cases of melanoma are directly attributable to indoor tanning in the U.S. each year.12
In some states across the U.S., laws have been enacted that limit indoor tanning access to youths, and to a degree, it has had some impact. According to one analysis, while 23.4 percent of female high school students overall engage in indoor tanning, its prevalence appears to be lower (21.2 percent) in states with indoor tanning laws in place.
For older teens and college students, we must continue to focus on spreading awareness of the dangers of indoor tanning. Family Nurse Practitioners (FNPs) have a variety of meaningful opportunities to influence tanning behaviors, whether through face-to-face conversations with young patients or through advocacy and policymaking. By maintaining an open dialogue with their patients and their communities, FNPs can play a key role in helping people lead longer, healthier lives.
Our gratitude to Darren Mays, Ph.D., MPH, and Sarah Murphy of the Lombardi Comprehensive Cancer Center at Georgetown University Medical Center for their assistance. Please note that this graphic is for informational purposes only. Individuals should consult their health care professionals before following any of the information provided. Nursing@Georgetown does not endorse any organizations or websites contained in this graphic.
1. Blashill et al. "Indoor Tanning Use Among Adolescent Males: The Role of Perceived Weight and Bullying." Annals of Behavioral Medicine 46 (2013): 232-236. Print.
2. Hoerster et al. "Density of Indoor Tanning Facilities in 116 Large U.S. Cities." American Journal of Preventive Medicine 36, No. 3 (2009): 243-246. Print.
3. CDC. Use of indoor tanning devices by adults—U.S. 2012.MMWR Morb Mortal Wkly Rep. 2012;61(18):323–6. [PubMed]
4. Choi, Kelvin et al. "Prevalence and characteristics of indoor tanning use among men and women in the United States." JAMA Dermatology 146, No. 12 (2010): 1356-1361. Print.
5. Robinson et al. "Indoor Tanning Knowledge, Attitudes, and Behavior Among Young Adults From 1988-2007." Archives of Dermatology 144, No. 4 (2008): 484-488. Print.
6. Gillen et al. "The Role of Body Image and Depression in Tanning Behaviors and Attitudes." Behavioral Medicine 38 (2012): 74-82. Print.
7. Heckman et al. "A Preliminary Investigation of the Predictors of Tanning Dependence." American Journal of Health Behavior 32(5) (2008): 451-464. Print.
8. Heckman et al. "Psychiatric and Addictive Symptoms of Young Adult Female Indoor Tanners." American Journal of Health Promotion 28, No. 3 (2014): 168-174. Print.
9. Guy, Gery P. et al. "State Indoor Tanning Laws and Adolescent Indoor Tanning." American Journal of Public Health (2014): e2-e6. Online.
10. Dennis, Leslie K. et al. "Does artificial UV use prior to spring break protect students from sunburns during spring break?" Photodermatology, Photoimmunology & Photomedicine (2013): 29, 140-148. Print.
11. Boniol et al. "Cutaneous melanoma attributable to sunbed use: systematic review and meta-analysis." BMJ 345:e4757 (2012): 1-12. Print.
12. Wehner et al. "International Prevalence of Indoor Tanning, A Systematic Review and Meta-analysis." JAMA Dermatology (2014): E1-E11. Online.