Advance Your Nursing Career Through Georgetown University's Online DNP Programs
Advance Your Nursing Career Through Georgetown University's Online DNP Programs
Advance Your Nursing Career Through Georgetown University's Online DNP Programs
Earn Your BSN to DNP Online or Your Post-Master's DNP Online
Earn Your BSN to DNP Online or Your Post-Master's DNP Online
Earn Your BSN to DNP Online or Your Post-Master's DNP Online
DNP Program Overview
Georgetown University School of Nursing' (GUSON) CCNE-accredited online Doctor of Nursing Practice (DNP) programs integrate advanced nursing science with organizational leadership and ethics to prepare you to improve patient care delivery in an increasingly complex health care system.
GUSON is a nationally recognized nursing school committed to advancing health equity and improving population health around the world. In keeping with this mission, our online DNP programs focus on ethical leadership and prepare you to improve accessibility and quality of care for underserved populations.
As a DNP student, you will have several opportunities to visit our campus, located in vibrant Washington, DC, where you can make connections, engage in service, and learn about policymaking as you prepare to lead developments across the health system.
We offer two entry points for our DNP programs:
BSN to DNP, designed for RNs with a Bachelor of Science in Nursing
Post-Master's DNP, designed for APRNs or nurses employed in advanced nursing roles with a master's degree
I have my BSN and am looking to obtain a DNP
I have my MS in Nursing and am looking to obtain a DNP
BSN to DNP Program
2–3
Objective Clinical Intensives
1,000–1,200
clinical hours
This program is designed for registered nurses (RNs) with a Bachelor of Science in Nursing (BSN).
The BSN to DNP program is offered full time and part time. The full-time program can be completed in as few as 33 months and consists of eight 15-week terms. The part-time program consists of eleven 15-week terms. Both schedules include on-campus experiences.
The number of program credits depends on the specialization you choose. You will complete both master's- and doctoral-level coursework while preparing to pursue APRN certification in one of the following specializations:
Upon graduation, you will be eligible to sit for board certification examinations in your specialty area to obtain licensure.
Objective Clinical Intensives
In the BSN to DNP program, you will attend Objective Clinical Intensives (OCIs), which are academic visits that include working with standardized patients (SP) and genitourinary teaching associates (GUTA). You will engage in high-fidelity simulation and refine your clinical and leadership techniques.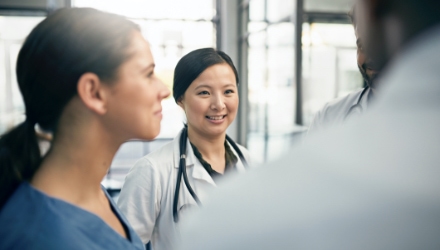 Clinical Placements
As a BSN to DNP student, you will gain direct experience treating patients in clinical placements, which are supervised by a skilled nurse preceptor. Our clinical placement team partners with you to secure sites that meet GUSON faculty standards, align with your specialization, and fall within a reasonable distance of your community.1
Post-Master's DNP Program
2
on-campus executive sessions
The Post-Master's DNP program is designed to build on the clinical experience of nurses in advanced nursing roles with master's degrees. You will engage with a diverse group of students, including health care administrators, nurse informaticists, practicing APRNs, and nurses in a variety of other roles.
The Post-Master's DNP program is offered in a part-time program of study, consisting of five 15-week terms, as well as DNP practice hours and on-campus executive sessions.
The 30-credit curriculum focuses on leadership at the systems level. Coursework is designed to encourage you to innovate, influence health care policy, and engage in the world in service to others, addressing topics such as:
Implementing quality and safety initiatives to improve outcomes
Integrating economic and financial principles in practice
Evaluating ethical and legal challenges in health care
This program is intended for students who have an advanced nursing specialty or role and does not provide clinical preparation in an area of specialization. If you are interested in pursuing additional certifications, Georgetown University offers an online Post-Graduate Certificate program with four APRN specialization options.

"Working with my Cohort and nationally recognized faculty leaders challenged me to think differently than I had in the past. This has allowed me to create immediate change in my leadership skills and take on new leadership roles that I might not have considered in reach previously."
– Shaunagh Browning, Post-Master's DNP 2019 Graduate (on-campus program),
Director of the Office of Research Quality Assurance

On-Campus Executive Sessions
Support and community are essential to success in a graduate program. As a Post-Master's DNP student, you will attend two on-campus executive sessions, where you will bond with your Cohort, practice stress management and mindfulness, and hone your scholarly writing skills.
These sessions include writing boot camps, an introduction to the university and the DC area, opportunities to receive feedback on your DNP scholarly project, and activities to increase competencies in the DNP essentials.
How the DNP Curriculum Prepares You to Lead
The Doctor of Nursing Practice is the highest clinically focused nursing degree in the field. Our online DNP programs synthesize advanced leadership concepts and clinical expertise to equip nurses employed in advanced nursing roles with the foresight and experience to lead the advancement and implementation of change in health care.
Our programs prepare you to improve health outcomes in the clinical setting, implement systems-level change, and advocate for policies that improve population health, focusing on vulnerable communities.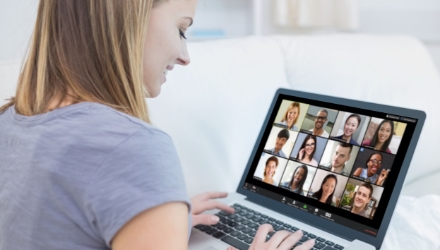 Advanced Coursework
Through HD-streaming, live online classes and interactive course content, you will acquire expertise in areas such as:
Health policy and advocacy
Health care quality and safety
Economics and finances
Biostatistics and epidemiology
Ethical leadership
Scholarly writing
Evidence-based practice
Health care informatics
Doctoral Scholarly Project
In the DNP Project Seminar, you will complete a scholarly project that translates evidence from original research and accelerates the adoption of best clinical and leadership practices.
By implementing and evaluating your DNP scholarly project, you will demonstrate practice-related scholarship, change leadership, and outcomes measurement. Though not required, many DNP students complete projects that support Georgetown University's Jesuit values and address an existing need of underserved populations in the United States.
Jump to:
BSN to DNP
Post-Master's DNP
Curriculum
Why Our DNP?
A Faculty of Active Practitioners
You will grow as a leader under the attentive guidance of Georgetown University School of Nursing (GUSON) faculty, who are fellows, active clinicians, and innovators in health care. Inside and outside of the classroom, they will share their knowledge gained from decades of multidisciplinary, real-world practice and experience.
Georgetown University School of Nursing (GUSON) faculty lead all aspects of course delivery, including designing the curriculum; teaching the most current research and techniques; and monitoring on-campus experiences, clinical placements, and DNP scholarly projects.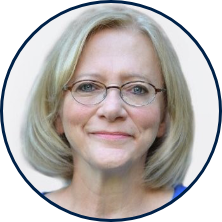 "Georgetown University's DNP programs follow the philosophy of leading from where you are. We move our students into a higher level of practice, regardless of a student's level of experience."
– Peggy Slota, DNP, RN, FAAN, Director of DNP Graduate Studies
Start Leading Systemic Change
If you are ready to take the next step toward becoming a nursing leader, request information about
our online DNP programs today.
Why Pursue Your DNP From Georgetown University?
With a DNP degree from GUSON, you will:
Strengthen your understanding of how health care stakeholders interact as you work to improve collaboration among providers, agencies, and organizations.
Contribute to enhanced outcomes for the teams and organizations you serve by improving how they function.
Form partnerships with patients, encouraging them to communicate effectively with their providers and become active participants in their care.
Develop a deeper understanding of individuals, families, and communities, using this knowledge to advocate for health policy and change.
Expand Your Impact as a Nurse Leader
Advance your nursing career and influence the health care system by earning your DNP online from Georgetown University.
Request information today.
1 While every effort is made to achieve 100% successful placement, clinical placement is not guaranteed. Some locations may require additional travel time and costs to secure appropriate clinical/practicum placements.