Nurse Practitioner Scope of Practice by State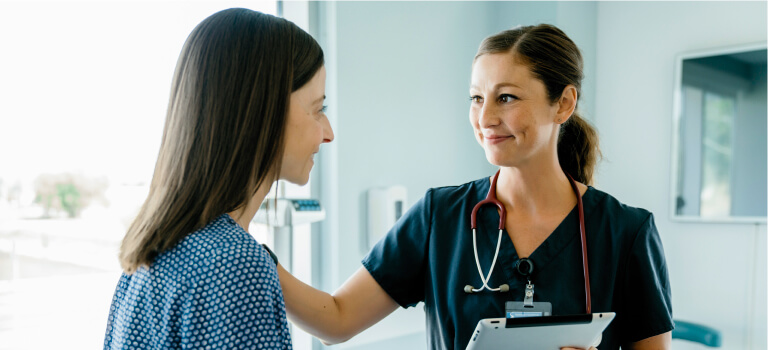 Prepared through advanced education and clinical training, Nurse Practitioners (NPs) fill roles that involve enormous levels of autonomy and responsibility. Providing a wide range of services, a Nurse Practitioner is responsible for evaluating patients; ordering and interpreting diagnostic tests; making diagnoses; and initiating and managing treatment plans, which includes prescribing medications.
NPs have a variety of options when it comes to practice specialty and the settings in which they choose to practice. Regardless, these professionals must adhere to the scope of practice for Nurse Practitioners within the state in which they provide care. As NP scope of practice is determined by state regulatory bodies — typically state boards of nursing — it varies from state to state. Below is a closer look at Nurse Practitioner scope of practice by state and the answer to a frequently asked question: "In what states can Nurse Practitioners practice independently?" Following the scope of practice discussion is a brief overview of several Nurse Practitioner specialties and related responsibilities.
States Where Nurse Practitioners Can Practice Independently
According to the American Association of Nurse Practitioners (AANP), there are three distinct categories of scope of practice for Nurse Practitioners: full practice, reduced practice, and restricted practice.
The AANP describes full practice (i.e., independent practice) as such: "State practice and licensure laws provides for all Nurse Practitioners to evaluate patients; diagnose, order, and interpret diagnostic tests; and initiate and manage treatments, including prescribing medications and controlled substances, under the exclusive licensure authority of the state board of nursing." This is the model recommended by the National Academy of Medicine and the National Council of State Boards of Nursing (PDF, 645 KB).
The following states allow NPs to enjoy full, independent practice:
Alaska
Arizona
Colorado
Connecticut
Delaware
District of Columbia
Hawaii
Idaho
Iowa
Kansas
Maine
Maryland
Massachusetts
Minnesota
Montana
Nebraska
Nevada
New Hampshire
New Mexico
New York
North Dakota
Oregon
Rhode Island
South Dakota
Vermont
Washington
Wyoming
In the remaining states, the NP scope of practice has reduced or restricted practice laws, which affect scope of practice for Nurse Practitioners as described by the AANP.
Impact of Specialization on Scope of Practice for Nurse Practitioners
There are a variety of specialization options for Nurse Practitioners, and each involves particular responsibilities. In some frameworks, scope of practice may be connected to a Nurse Practitioner's responsibilities related to the individual's specialization, advanced education, clinical training, certification, and competencies in a specific area.
However, the context of the scope of practice language here refers to state-level regulations for Nurse Practitioners, which override scope of practice language for specialty certifications. As such, we will examine how different specialties have related responsibilities that are carried out within the context of state-specific scope of practice regulations.
Citation for this content: Nursing@Georgetown, the online MSN program from the School of Nursing & Health Studies