How to Stay Healthy While Traveling: Tips for Families and Individuals

As the holiday travel season begins, more people are traveling to be reunited with families and loved ones. But many families and individuals are considering how to stay healthy while visiting loved ones and getting away.
Ron Kraus, president of the Emergency Nurses Association, and his family are among the millions of families who are trying to plan holiday gatherings while still protecting the health of young children who are unvaccinated as well as elderly family members.
"We all want to get together, we all want to see each other, and some people haven't seen each for a long time, and I get that," Kraus said. "But it's not worth the endgame of potentially getting somebody ill."
While COVID-19 poses significant travel risks, traveling domestically and internationally inherently carries other health risks. There are steps families and individuals can take to minimize their chances of getting sick during the winter holiday travel season and beyond. Nursing@Georgetown has gathered recommendations from nurses and public health organizations to help guide families and individuals in making decisions around travel. The links below can help navigate to different sections with information about staying healthy during travel.
Health Risks of Traveling
In addition to COVID-19, there are other health risks individuals may encounter when traveling close to home and abroad — from the common cold to malaria.
Families should consider their own risk tolerance and set boundaries as they are planning trips, especially with unvaccinated children. Parents might question whether a trip is worth any potential risks that come with travel and if the necessary requirements to keep their families safe outweigh the benefits. According to Kraus, these considerations are unique to each family.
"Everybody has their own individual thought process," Kraus said. His recommendation is to pause and consider what best serves the family and takes into account their safety.
How to Stay Healthy Using Different Modes of Transportation
Different modes of transportation carry different risks. Regardless of how families are traveling between points A and B, Kraus recommended frequent hand-washing and masking as essential steps for preventing the spread of COVID-19 and other communicable diseases.
Below are some of the common risks associated with traveling by plane, train, bus, and car, paired with precautions passengers can take to help prevent these conditions.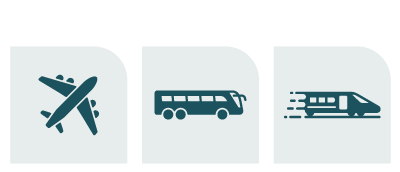 Risk (plane, bus, train): blood clots/deep vein thrombosis (DVT)
Blood clots pose a risk for travelers during trips of four hours or more, particularly for people who are or were recently pregnant or who have obesity, cancer or other serious illnesses, or a history of blood clots.
Precautions that can help prevent DVT:
talking with a provider before traveling about wearing compression stockings and/or taking medication to prevent clots
standing and walking around occasionally during long flights or rides
stretching legs while seated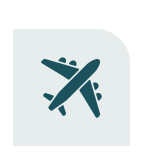 Risk (plane): exacerbating chronic conditions
Changes in air pressure and humidity in airplane cabins can exacerbate chronic medical conditions during travel. Passing through metal detectors in airport security also poses a risk to those with internal medical devices such as pacemakers.
Precautions to avoid worsening chronic conditions:
talking with a provider before traveling to understand how a trip could affect a medical condition and prepare for potential complications
carrying prescription medications and a copy of medical records
informing TSA officers and avoiding metal detectors if you have a pacemaker or other internal medical device
drinking plenty of water to prevent dehydration while flying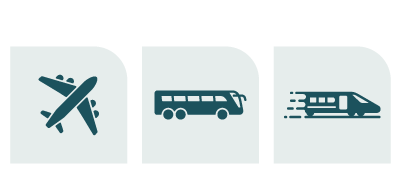 Risk (plane, bus, train): close proximity to travelers with communicable diseases
Flying and taking public transportation can put travelers at risk of contracting communicable diseases such as COVID-19, the flu, and common colds from close contact with sick people.
Precautions that can keep travelers and those around them well:
avoiding travel when sick
staying up to date on vaccinations and receiving destination-specific vaccines for international travel
washing hands frequently
wearing cloth, medical-grade, or N95 masks and bringing backup masks
bringing hand sanitizer in bottles that can fit in carry-on luggage
avoiding restrooms on trains and buses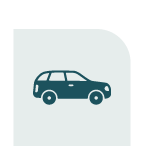 Risk (car): exposure to pathogens at gas stations, rest areas, and other stops
Making stops during road trips can expose travelers to germs along the way to their destination.
Precautions to minimize risks of getting sick during a road trip:
opting for shorter road trips that do not require stops, and minimizing stops on longer trips
sanitizing rental cars before driving them
washing hands frequently and using hand sanitizer
packing meals instead of dining at restaurants
How to Stay Healthy Before, During, and After Travel
Best practices for traveling domestically and internationally vary by destination. But in general, there are basic steps individuals and families can take to prioritize their health no matter where they go: staying hydrated, prioritizing sleep, and eating well.
"A body that's kind of run down and tired may be more susceptible to a virus," Kraus said.
People who are pregnant or have chronic conditions should take extra care to prepare to stay well while traveling and should understand the health care options at their destinations.
"Wherever they are going, it really helps if they preplan — should they need medical help — what kind of medical services will that place that they're going to have," said Heintje Calara, a DNP with 30 years of nursing experience who serves as a clinical practice liaison for Neurocrine Biosciences.
The tips that follow can help families and individuals take precautions before, during, and after trips to maintain their health while traveling in the United States and abroad.

General Tips for Traveling Anywhere
Before A Trip
Prioritize getting good sleep and nutrition.
Put together a basic first-aid kit, including over-the-counter treatments for cold and flu symptoms and diarrhea.
Pack prescription medications, including extra doses.
Travel with medical identification cards, insurance cards, and allergy information.
Consider securing travel insurance, depending on the duration of the trip and the destination.
Get vaccinated against common pathogens such as the flu and COVID-19.
Be aware of the COVID-19 transmission rate and vaccination rate in the area where you will be traveling. The CDC offers a world map of COVID-19 travel recommendations by destination.
During A Trip
Wear sunscreen.
Wash hands often and moisturize them after washing to protect skin.
If you feel sick, visit an urgent care center for mild or moderate symptoms or an emergency room for more severe conditions.
Contact a primary care provider to update them on your condition if you become ill.
In hotel rooms and rental properties, sanitize frequently touched items such as remote controls.
Minimize contact with unvaccinated individuals.
After A Trip
Monitor your health.
If you feel sick when you return, make an appointment with a provider and share your recent travel history.
Notify people you have been in close contact with about your symptoms.

Health Tips for Domestic Travelers
In addition to the general tips above, these measures can help individuals and families stay healthy while traveling within the United States.
Before Traveling
If unvaccinated against COVID-19, get tested for the virus one to three days before traveling.
Do not travel if exposed to COVID-19, if sick, or if waiting for test results.
While Traveling
Learn about and follow local guidelines for COVID-19 prevention.
Wear a mask in public.
Avoid crowds and maintain six feet of distance from others when possible.
After Traveling
Monitor for symptoms of illness. Isolate and get tested if there are any signs of illness.
If unvaccinated against COVID-19, quarantine for at least seven days after traveling.
Get tested for COVID-19 three to five days after traveling.

Health Tips for International Travelers
These tips below can help individuals and families stay healthy while traveling outside the United States.
Before Traveling
Research the destination to understand travel recommendations for the area.
Receive requisite vaccinations and medications to prevent diseases endemic to certain areas at least a month before traveling. 
Enroll with the Department of State's Smart Traveler Enrollment Program.
Know whether a molecular COVID-19 test is required before entering a country and/or returning to the United States and make a plan for getting tested.
Notify a primary care provider of the travel plans.
Anticipate needing to communicate in a medical crisis.
While Traveling
Do not drink or use tap water for brushing teeth or washing produce unless it's been verified as safe.
Ask locals for recommendations on where to seek care if needed.
Consider which fresh fruits and vegetables can be safely consumed.
Eat foods that are easy on the stomach.
Prevent insect and animal bites.
Be conscious of physical safety.
After Traveling
Know the requirements for entering the United States from the destination.
Consider getting tested for COVID-19 when returning home and again a week after arriving.
If you feel sick upon or after return, make an appointment with a provider and share recent travel history.
Isolate if unwell.

Packing List: Healthy Travel Essentials
Calara and Kraus recommend bringing these health essentials when traveling:
minor first-aid kit
medications: prescription medications (including extra doses for international travelers), over-the-counter cold and flu medication, and antidiarrheal medication for international travelers
medical information: copies or pictures of insurance cards and a list of current medications
extra food and water when driving
hand lotion to moisturize and protect the skin barrier
Travel Tips for Parents of Unvaccinated Children
Families with children who are not yet vaccinated against COVID-19 must weigh additional factors when it comes to taking trips, seeing family, and gathering with friends.
The following considerations can help parents and caregivers weigh risks of traveling with unvaccinated children and take precautions to protect the health of their families.
Take rapid COVID-19 tests before traveling.
Know the vaccination status of people you plan to visit.
Ask family to quarantine before seeing people who are not vaccinated, eldery, or immunocompromised.
Set boundaries that align with your risk tolerance and communicate them honestly to friends and family.
Ask people outside the household to wear masks when holding children.
Have children ages 2+ wear a mask over their nose and mouth in public.
Encourage children to wash their hands frequently, and travel with hand sanitizer.
Minimize contact with people who are not fully vaccinated or members of the household, including contact between unvaccinated children.
Opt for short road trips over flights when possible. If flying, minimize stops and layovers.
Choose houses over hotels for lodging, and stay with members of household and fully vaccinated individuals.
Look into restaurants' COVID-19 prevention practices before dining out.
Additional Resources
These resources offer more information that can help individuals and families prioritize health when traveling.
Sources
Heintje Calara, DPN, RN; Neurocrine Biosciences, clinical practice liaison.
Ron Kraus, MSN, RN; Emergency Nurses Association president.
"Top Tips for Healthy Holiday Travel," Centers for Disease Control and Prevention. Dec. 23, 2020. Accessed Nov. 16, 2021.
Vora, Shivani. "How to Stay Healthy While Traveling," The New York Times. Accessed Nov. 16, 2021.
"Domestic Travel During COVID-19," CDC. Nov. 12, 2021. Accessed Nov. 16, 2021.
"International Travel," CDC. Nov. 5, 2021. Accessed Nov. 16, 2021.
"Vaccines for Travelers," HHS.gov. April 29, 2021. Accessed Nov. 16, 2021.
"Your Survival Guide to Safe and Healthy Travel," CDC. March 10, 2020. Accessed Nov. 16, 2021.
"Activities, Gatherings & Holidays," CDC. Aug. 26, 2021. Accessed Nov. 16, 2021.
"How Can I Travel Safely With Small Children During the Holidays?" The Cut. Nov. 4, 2021. Accessed Nov. 16, 2021.
Citation for this content: Nursing@Georgetown, the online MS in Nursing, DNP, and Post-Graduate Certificate programs from Georgetown University School of Nursing & Health Studies.