How to Support Nurses and Health Care Workers During COVID-19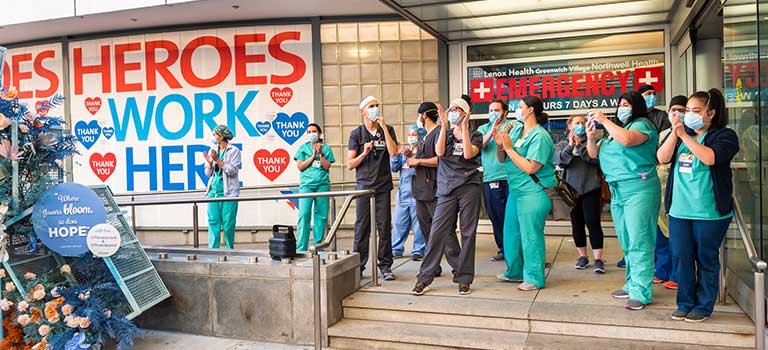 The World Health Assembly designated 2020 as "International Year of the Nurse and Midwife" to celebrate the important role that nurses play in health care. Now, several months into the COVID-19 pandemic, it has become even more clear why nurses and other health care workers deserve recognition—and support—from the communities they serve.
With more than 8 million confirmed cases of COVID-19 in the United States, health care professionals on the front lines continue to take on the challenge of providing lifesaving treatment to an increased population. This has led some experts to worry that the added stress of an ongoing pandemic may cause clinicians to experience burnout, depression, and other health issues. In turn, communities are rallying to support nurses and health care workers through a variety of channels.
Why COVID-19 Nurses Need Support During the Pandemic
Working in health care can be very rewarding, but like many other working professionals, nurses and other health care workers are experiencing new obstacles amid the pandemic.
This has led to concerns on the potential lasting effects of the pandemic. According to a statement from the International Council of Nurses, "anxiety and overwork are taking their toll on the mental health and well-being of nurses, increasing the risk of post-traumatic and other stress-related disorders."
While COVID-19 nurses working in hospitals work to treat an infected population, others who work in areas such as chronic health management may worry about their patients who are at higher risk for complications because of the virus.
"The first thing community members can do to support nurses is to stay home and follow other protocols that help slow the spread of the virus, such as wearing masks in public and social distancing."
– Leslie Arceneaux DNP, FNP-BC, CDE
"It's something that all nurses are concerned about right now, no matter what arena you're in," said Leslie Arceneaux DNP, FNP-BC, CDE, assistant professor and program director at Georgetown University School of Nursing & Health Studies. "[Nurses] who work in the emergency room or intensive care are disproportionately affected. It's affecting them emotionally, physically … It gets to be very challenging. Nurses are often the last thread of compassion and hope for these patients. Nurses are on the front lines taking care of the critically ill, implementing triage protocols, communicating to families, and attending to the dying."
Arceneaux says some of the most common stressors for nurses and other clinicians include:
Concerns about contracting COVID-19 at work
Fear of infecting family members and others
Feeling isolated when choosing to quarantine
Working with patients who may not recover
Ways to Support Nurses During COVID-19
During the initial surge in COVID-19 cases in March, community members were eager to support COVID-19 nurses and health care workers, arranging to send meals to hospitals and other acts of kindness. Several months later, many individuals are searching for new ways to meet the current needs of clinicians on the front lines.
7 Ways to Support Nurses and Health Care Workers
1. Follow protocols.
Help slow the spread of the virus by taking the recommended precautions, such as staying home, wearing masks in public, and following social distancing guidelines.
2. Donate blood.
In times of crisis, there is often a shortage of blood donations, which can be critical for patient care. Organizations like the Red Cross offer information on how to find local blood drives.
3. Contact community leaders.
Find out if groups in your area are making efforts to help. For example, local churches have done cloth mask drives to help minimize the use of personal protective equipment (PPE) outside of health care settings, Arceneaux said.
4. Be an advocate.
Supporting policies and legislation that benefit public health and health care professionals can help make a lasting change. The American Nurses Association provides a regularly updated list of COVID-19 issues and information on how to help.
5. Get a flu shot.
As flu season approaches, health care experts are worried about managing influenza outbreaks while also continuing to treat COVID-19 patients, Arceneaux said. Taking this precaution can help slow the spread of the influenza virus.
6. Talk to nurses.
If you know a nurse or health care worker, consider asking them if they need assistance with running errands, child care, or other tasks.
7. Give to charities.
Several nonprofit organizations are currently raising money for COVID-19 initiatives. Online tools such as Charity Navigator can help individuals find and verify the trustworthiness of nonprofit organizations.
Organizations That Aid Health Care Workers
CDC Foundation Coronavirus Emergency Fund
This crowdfunding effort by the CDC Foundation was established to direct funds toward purchasing medical supplies, increasing lab capacity, deploying emergency staffing, providing support to vulnerable communities, and other health care efforts related to COVID-19.
Center for Disaster Philanthropy (CDP) COVID-19 Response Fund
This fund aims to "support containment, response, and recovery activities." In addition to providing services for vulnerable populations and small businesses, the fund also supports frontline health care workers by providing PPE and deploying emergency medical teams.
COVID-19 Frontline Health Worker Fund
Intrahealth International is behind this initiative, which directly supports health care professionals. Services provided through donations vary, as they strive to address the current and ever-changing needs of medical teams.
COVID-19 Solidarity Response Fund for WHO
The World Health Organization is raising money to address the pandemic in many ways through their partnerships. In addition to accelerating COVID-19 research, WHO also offers PPE and other supplies to health care workers.
GlobalGiving Coronavirus Relief Fund
Organized by GlobalGiving, this fund supports health care workers by sending medical teams to communities in need of additional help, as well as providing supplies such as masks and ventilators to hospitals. The fund additionally serves vulnerable community members affected by the pandemic.
Project HOPE focuses primarily on providing PPE to health care workers, delivering training on how to care for COVID-19 patients, and deploying health care workers to medical facilities in need of additional staffing.
Citation for this content: Nursing@Georgetown, the online MSN program from the School of Nursing & Health Studies