How Nurses Can Protect Themselves as They Work to Save Others
Nursing is a skilled occupation that is as challenging as it is rewarding, drawing in compassionate and empathetic people. Such fierce devotion to patient care has kept nurses at the top of the list of trusted professionals for 16 consecutive years. Nurses thrive on the ability to connect with patients, but the qualities required to be an effective caretaker are also risk factors that ultimately diminish a nurse's pleasure and productivity at work.
The pitfalls of compassion fatigue, secondary trauma, moral distress, and burnout are widespread. A literature review published in Archives of Psychiatric Nursing noted that across all nursing specialties examined, the "presence of secondary traumatic stress in nurses was reported in all of the studies."
This means dramatic traumas are not necessarily the most devastating causes of low nursing morale. Instead, it can be exposure to stressors of the regular grind.
"Day in and day out, [nurses] are faced with trying to help and to establish that provider-patient relationship with individuals who are facing some of the worst things that you can possibly imagine," said Georgetown University School of Nursing & Health Studies faculty Meg Carman, DNP, ACNP-BC, ENP-BC, FAEN. "This is the worst day, at the worst point in their life, and nurses are the ones who need to be there and be strong."
Now, nurse scientists and clinicians are investing in research and education to protect themselves from the effects of the stressors of their occupation. As past nurse advocacy brought about workplace protections like safety goggles, body fluid exposure protocols, needless connectors, and employee health immunizations, nurses today have begun to address the mental health hazards of their work.
The Cost of Caring
Nurses devote their careers to healing those in need. They are a self-selecting group of empathetic caregivers. Empathy, though, has proven to be a double-edged sword.
"There's an interesting dynamic in nursing," said Georgetown University adjunct professor Christina Fleming, MA, MSN, RN, CNM . "Scoring higher on measures of compassion, with an ability to connect, be empathetic, and present with the suffering of others, is highly correlated with burnout."
Compassion and empathy are not just what bring caregivers to the nursing occupation; they are foundational to professional success. Mitigating them would undermine provider contributions, which are so vital to improved patient outcomes. Academic models help define the occupation: "First Lady of Nursing" Virginia Henderson authored the "Need Theory " in which the nurse cares for patients who cannot care for themselves. It's an intimate job, filling a very personal void for the patient; therefore, nurses regularly take on a human burden — both physically and mentally — that is not their own.
"The role of the nurse in these difficult situations is to guide patients and help them, while at the same time trying to promote their autonomy and allow them to have self-determination," Carman said. "So, it's making sure patients are informed, but it's also being at the top of your game every moment in terms of the science of nursing, giving good evidence-based care."
In short, nurses must be empathetic. Research shows that when these clinicians maintain a boundary between self and patient, they experience positive emotions under the umbrella of compassion. When the distinction between "other" and "self" becomes blurry, clinicians are faced with empathic distress. It is important for nurses to recognize compassion and empathic distress and know the difference between the two.
Feelings of compassion are:
Feelings for the other
Positive (love)
Associated with good health
Prosocial and motivating
Feelings of empathic distress are:
Projected on one's self
Negative (stress)
Associated with poor health and burnout
Non-social, creating a desire to withdraw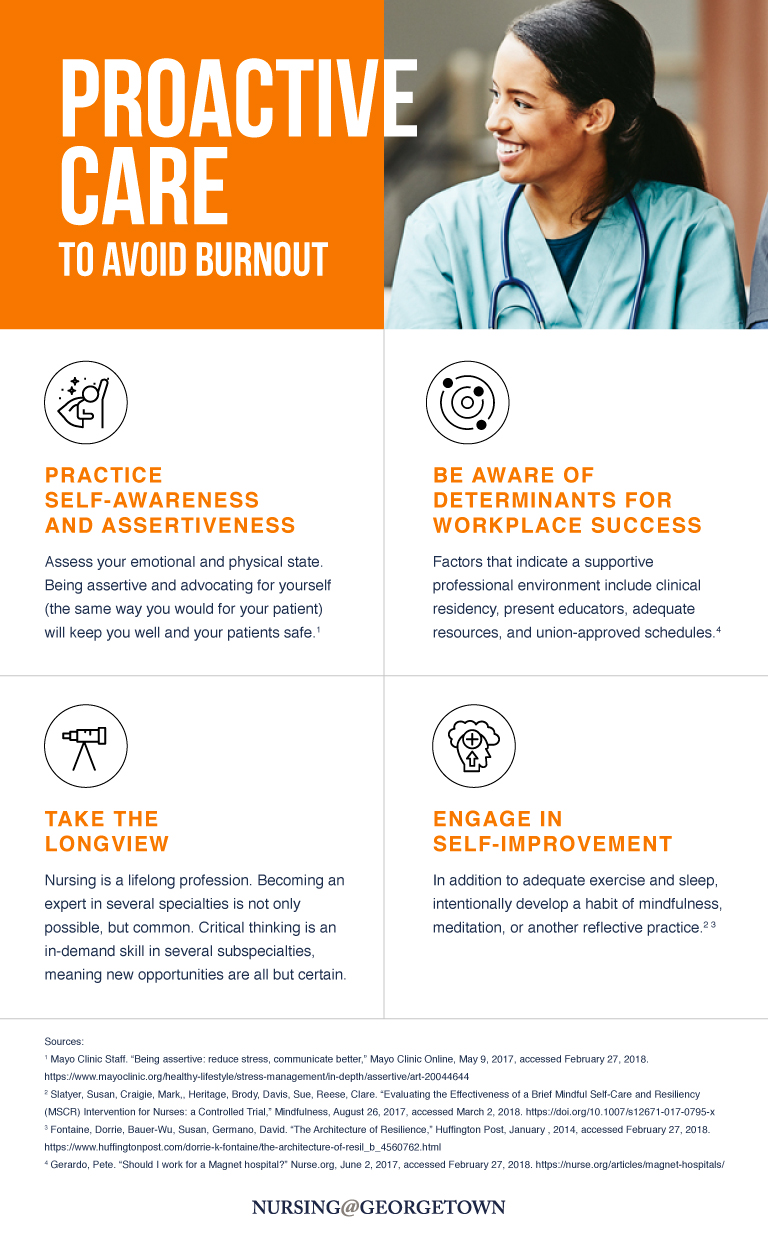 Georgetown University School of Nursing & Health Studies embraces cura personalis, care of the whole person. The American Association of Critical Care Nurses' Synergy Model describes the patient as having biological, social, and psychological needs that should be matched to the nurse whose skills and abilities are their best fit. Both views of a nurse-patient pair emphasize how the nurse is charged with holistic care.
Empathy for a patient enables the nurse to make appropriate calls on how best to provide care. Overextending empathy, however, may cause nurses to lose track of their own physiological and emotional status. Compounded over time, overextension "just really wears on you," said Carman, who is also the director of Advanced Nursing Practice for the Emergency Nurses Association.
"There's the emotional aspect of witnessing human tragedy right in front of you every day, as well as the physical demands and the intellectual demand of being right there," she said. "The challenge is encountered in every moment that you're practicing because, in the face of tragedy, you're also trying to bring in holism and humanity at the same time."
How to Care for a Clinician
Self-care is a skill that can be nurtured from the beginning of a provider's career or taught to those currently in practice. In fact, hospitals and schools have introduced curricula to prepare frontline clinicians to address mental and emotional stress, but real-time check-ins are typically reserved for the most serious cases.
"It is not uncommon for such debriefings to occur after a major disaster or a mass casualty event," says Carman. "These are the things that we tend to handle very well, but it's the day to day, the tragedy that nurses and other caregivers see regularly, that doesn't get attended to, and those are the things that you carry with you."
Research continues in the hopes of answering the question: What does a clinician need to thrive at work?
In their workplace, nurses must first be comfortable addressing their own basic human needs, including taking bathroom breaks, meal breaks, and staying hydrated. They should feel safe and find comfort in the fact that they have the education, skills, experience, and support of their colleagues to provide quality care to their patients. The best workplaces value teamwork and autonomy to make clinical decisions within the nursing scope of practice.
Members of a strong team regularly check in with each other to manage and balance workloads. This is the type of culture where self-care is encouraged. According to Carman, nurses caring for one another is a boon to resilience.
"It's the nurse who comes in afterward and says, 'You know what? Go take a break and get a cup of coffee. Catch your breath and I'm going to watch your patient for you,'" Carman said. "Or it's the nurse that comes in and says, 'I'm going to do the postmortem care with you. I'm going to help you wash the patient up and get them ready for the morgue.' It's the nurse who maybe covers your shift because they understand what else you have going on, and you need to not be at work for a day so they take time for you. These are the things we do to take care of each other."
The Importance of Primary Prevention
As health care professionals, nurses know the power of preventive medicine. Being aware of the symptoms and knowing how to prevent compassion fatigue and its companion issues are good first steps to keeping front-line clinicians healthy.
Choose a work environment that values clinicians. Spend time shadowing on a unit before accepting a position to gauge what it would be like to work there. Magnet certified hospitals, for example, are deliberate in their decisions that affect the work environment and must meet certain criteria including low turnover, high employee satisfaction, and autonomy.
Bring best practices to the workplace. Joining professional associations and reading journals are great ways to stay engaged.
Assert cultural change. A practice called "the pause" was started by an emergency department nurse to recognize the death of a patient and has become a nationwide phenomenon.
The nursing profession faces challenges as the field of health care continues to evolve. The profession is growing in importance and voice, positioning these providers as key patient advocates in the hospital room as well as in the national discourse. For the field of nursing to continue to progress, those working within it must have the support needed to lead fulfilling careers.
Industry leaders are recognizing the barriers raised by compassion fatigue, secondary trauma, moral distress, and burnout. These barriers can be overcome by upholding healthy work environments as a clinical standard, promoting teamwork, and committing to the importance of self-care. With ongoing research and better-informed workplaces, nurses can continue to make the profession safer — for themselves and their patients.
Citation for this content: Nursing@Georgetown's Online FNP Program