Chronic Disease Resources
The resources in this section draw on expertise from Nursing@Georgetown faculty to offer support and information for patients with chronic diseases and for their loved ones. Georgetown University School of Nursing (GUSON) is committed to teaching cura personalis — care for the whole person — and the articles on this page address the mental, emotional, and physical implications of chronic disease. Use the links below to find information related to specific conditions.
Cancer

This guide offers tips for oncology nurses, cancer patients, and friends and family members of individuals with cancer to effectively communicate about cancer diagnosis and treatment.

This article explores how cancer patients can shore up their mental health and manage depression, anxiety, and other feelings of distress that often accompany cancer diagnoses. It also offers tips for friends and family members to support their loved ones with cancer.
Dementia

This article explains the various symptoms associated with different types of dementia, offers tips for communicating with individuals with dementia in different stages, and includes self-care suggestions for dementia caregivers.
Diabetes

This piece explores the emotional and mental tolls of diabetes diagnoses and suggests tips for adolescents and adults diagnosed with diabetes to adapt to the physical and emotional complications that come with the condition.
Heart Disease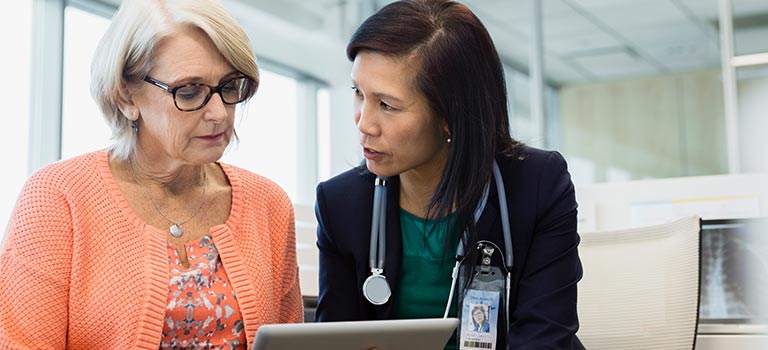 Heart attack and stroke symptoms may be different in women than in men. This piece outlines warning signs of heart attacks and strokes in women and offers tips for women to advocate for themselves when communicating with clinicians.
This piece examines the cardiovascular effects of diabetes and offers advice for family nurse practitioners (FNPs) to identify and treat diabetic heart disease.
Nursing@Georgetown, the online MS in Nursing, DNP, and Post-Graduate Certificate programs from Georgetown University School of Nursing (GUSON).
This page was last updated in May 2022.