How to Prepare for Childbirth: Choosing a Provider and Setting
Preparing for a baby involves careful planning, particularly around the childbirth experience. An expectant mother must make choices about the type of provider she prefers, birthing method, location of birth, and use of medication — decisions that can become especially challenging once contractions start.
Lack of clarity in the delivery room about these factors can put women at risk. Maternal mortality rates in the United States are among the highest in the developed world, according to Nursing@Georgetown's analysis of World Health Organization maternal mortality data.
Of the many reasons cited by the CDC for why childbirth continues to be the sixth-leading cause of death in America for women ages 20 to 34 (PDF, 2.4 MB), miscommunication between women and their providers is perhaps the most preventable.
Who will provide care and where that care will take place are two of the first decisions a parent will make. Weighing childbirth options and clearly stating these preferences can help reduce uncertainty and clarify expectations between families and perinatal care providers.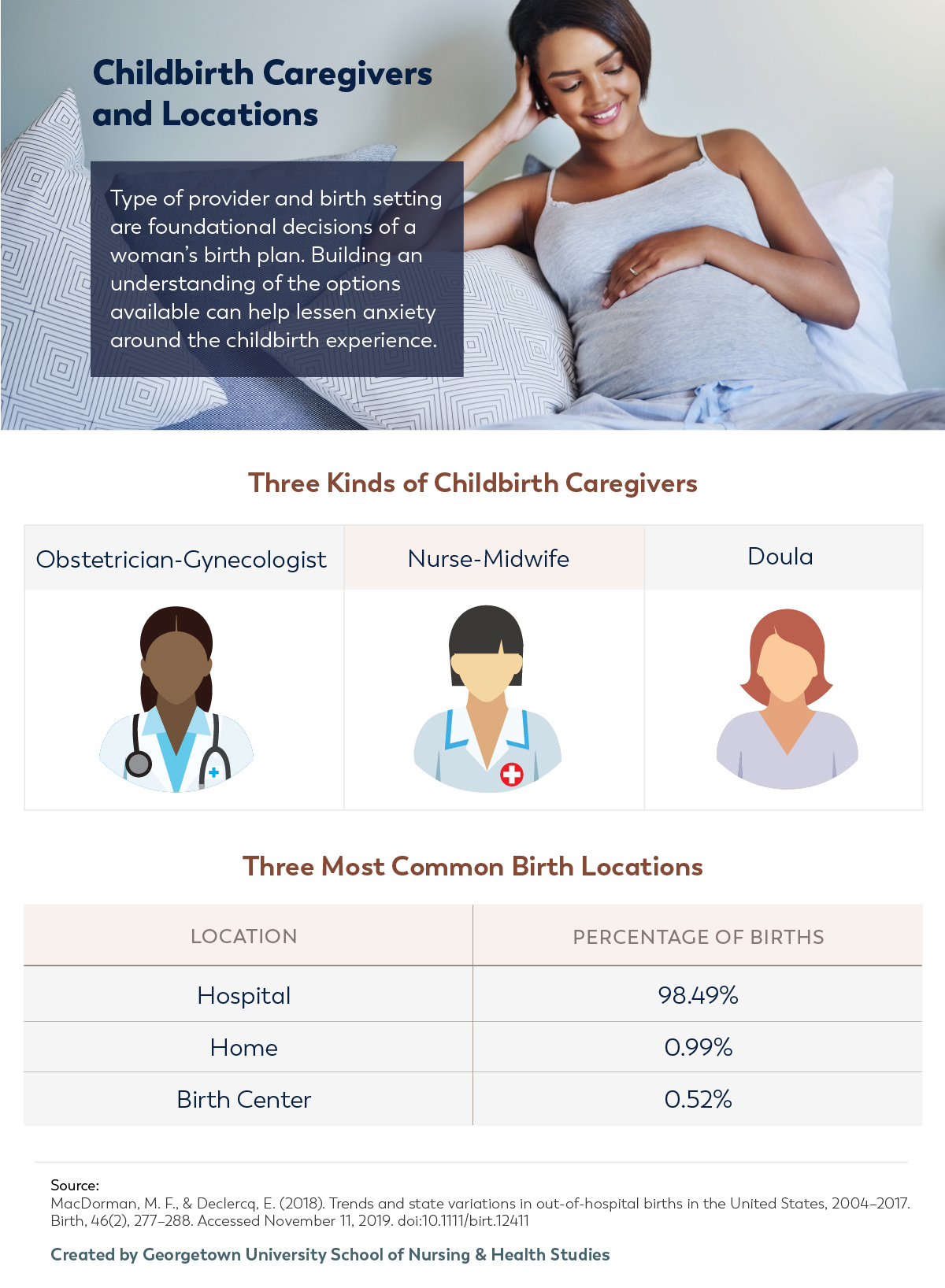 Three professions with experience in labor and childbirth are midwives, obstetrician-gynecologists, and doulas. The most common childbirth settings are hospitals (98.49%), homes (0.99%), and birth centers (0.52%).
Choosing a Childbirth Care Provider
Women have different options for childbirth caregivers, from doulas to certified nurse-midwives, and obstetrician-gynecologists. When building a caregiving team, it's important to understand the scope of care offered by each health care professional and gauge the provider's style of care, including her or his willingness to discuss and follow through with patient wishes. Some questions to consider include anticipated medical intervention and potential high-risk aspects of the birth, as well as the desired birthing method and location.
Midwives
May be a certified nurse-midwife (CNM), a certified midwife (CM), or certified professional midwife (CPM), as defined by a Journal of Midwifery & Women's Health (JMWH) article on midwives (PDF, 135.7 KB); not all types of midwives have the same permissions and privileges in every state.
Can work in hospitals (94%), birth centers (3.2%), or home settings (2.6%), according to an American College of Nurse-Midwives (ACNM) fact sheet on midwifery and childbirth (PDF, 71.96 KB).
Provide care — depending on certifications — during pregnancy, labor, childbirth, and the postpartum period, as detailed in the JMWH article.
Attend about 12% of vaginal births and 8% of all births in the United States, as noted in the ACNM fact sheet.
Often have hospital privileges similar to physicians, if they are CNMs or CMs.
Serve as primary care providers once credentialed, as stated in the JMWH article, though they cannot perform major surgery, such as cesareans ("C-sections").
Obstetricians and Gynecologists
Doulas
Provide emotional support and comfort to women during labor.
Cannot offer medical care but may advocate for a woman's childbirth plan.
Can lessen risk of C-section birth and complications, as cited by DONA International's Benefits of a Doula page.
Associated with lower incidence of Pitocin and pain medication use and cesarean delivery when doula services are present at birth, according to DONA International.
Choosing the Childbirth Setting
The three most popular options for women in the United States are hospitals, birthing centers, and home births, according to the ACNM. Frequently, the parent's choice of caregiver, kind of birth, and location are interdependent, as physicians may only practice at certain facilities. The woman's health may also determine the location. For example, premature labor may require hospitalization and the use of the neonatal intensive care unit (NICU), even if parents planned to deliver at a birthing center.
Hospitals
Are the most common setting of childbirth options in the United States: Only 1 in 62 births occurred outside a hospital in 2017.
May be prepared with a NICU, a surgical suite in the labor wing, or equipment for a water birth; women with choices for their hospital birth may want to research the facility ahead of time.
Birth Centers
Focus all efforts on ensuring the childbirth meets the parent's expectations through a family-centered approach.
Are a less expensive childbirth option, according to the American Association of Birth Centers, which may help families save money if the locations are covered by insurance.
Produce a C-section rate of 6% among low-risk women, four times lower than the national rate of 27% of low-risk women.
Provide labor and delivery services that are less likely to result in surgical interventions.
At Home
Home births offer women a lower risk of contracting illnesses through the hospital; lower costs; and more personalization, autonomy, and privacy.
Home births are attended by midwives who carry lifesaving medications to ensure the safety of women and newborns, as noted in the JMWH article.
Home births are not recommended for high-risk deliveries, as explained in the American Pregnancy Association's fact page on home birth; having access to equipment and personnel who are able to provide lifesaving interventions is essential for high-risk pregnancies.
Births at-home typically progress according to plan (89.1%), as indicated by results of The Midwives Alliance of North America Statistics Project; most of those transported to a hospital were transported for "failure to progress."
Although having a plan is helpful, labor is not without risk or surprises, so preparation and flexibility are key to ensure the safety and comfort of women and their newborns. Expectant parents may want to spend time with childbirth care providers, even before pregnancy, to build a relationship and understand that provider's unique style of care and the kinds of birth with which they are most experienced.
Please note that this post is for informational purposes only. Individuals should consult their health care professionals before following any of the information provided. Nursing@Georgetown does not endorse any organizations or websites contained in this post.
Citation for this content: Nursing@Georgetown, the online Women's Health Nurse Practitioner program from the Georgetown University School of Nursing & Health Studies