Student Spotlight: Jennifer Young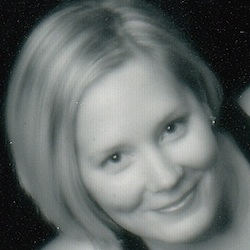 How long have you been in nursing?
I have been in nursing almost 12 years.
What year did you attain your BSN?
I earned it in 2010, and have been practicing as an LPN since 2000.
What state are you from?
I live in Virginia.
In what states have you practiced?
I'm licensed in VA and D.C now. I've practiced in IL, MN, PA, VA, and D.C.
In what departments have you worked?
I've worked as a wound care nurse and floor nurse (Pennsylvania, less than 1 year); in a sub-acute/hospice/long-term care unit of a nursing home (Minnesota, 3 years); and in a family practice clinic (Chicago, Illinois, 3 years).
How old are you?
I am 31.
Are you married? Do you have any children?
I'm married, with three children.
Do you currently work? Part time or full time?
No, I'm a volunteer PRN for a women's shelter.
What program are you pursuing?
I'm enrolled in the Family Nurse Practitioner program (part time).
Why did you want to become a family nurse practitioner?
I decided to advance my nursing career as a family nurse practitioner so that I can practice at the expert level and give my patients the best health care possible. Our nation is in need of experienced practitioners that will focus on health maintenance and disease prevention. It is time to kick these chronic, preventable conditions out the window.
If you look for me in five years, you won't find me writing a lot of prescriptions for chronic conditions. I'll be the one dosing out realistic exercise regimens, education on conditions affecting our communities such as obesity, diabetes, and hypertension, and information on how to prepare nutritious meals on any budget. Patients can take this information and share it with their family, who will, in turn, share it with other family members. To me, being a family nurse practitioner is about educating patients so that they are empowered to take charge of their health and the health of their family.
Why are you becoming an APRN?
I want to be able to give more to my patients, and I wanted to advance from LPN and beyond. It gives me the opportunity to be the expert nurse.
What advice would you give to someone who is just starting in this career path?
Spend time in the area in which you think you want to practice. I have seen so many people get a degree in nursing only to realize that it isn't what they thought it would be.
What are some ways you've been working to create a healthy school-life balance?
I have three kids under four years old, so my day is very structured. We get home from pre-school and have lunch. The babies go down for a nap, and I study while they sleep. We then spend all evening together and after they go to bed, I study again. I do as much as possible during the week so that our family can enjoy the weekend together.
What has your experience been with the Learning Management System (2GU)?
I love 2GU because I can watch lectures and study when it is convenient for me. I also enjoy the flexibility of taking my classes online. I have attended live sessions from home, as well as New England and Florida.
Getting my master's degree would not have been possible in a traditional on-campus program because I am a mom of young children. A lot of people ask me how I am able to do it all, but really it's a blessing. I am able to be at home with my children and to be a part of their lives because I attend Georgetown online.
I enjoy seeing my colleagues every week and look forward to the social experience of my education just as I did in the traditional on-campus setting of my bachelor's degree. I wasn't sure about the social aspect of the program (I'm not the quiet one in any class) but it is very stimulating.
What is one skill you believe every nurse should possess?
Every nurse should possess excellent communication skills. Listen to the patient, observe their body language, and tune in to what they might be feeling and what they may be holding back. Consider what to say before speaking; you don't always have to speak. Gallup's annual survey has ranked nurses as one of the most honest and ethical professions for over 11 years. It is an honor and privilege to care for people during their most delicate moments; excellent communication skills during these moments can be the difference between non-existent and excellent health care.
Anything we should be asking?
Emphasize the fact that if you have young children, this is very do-able with the right organizational skills and commitment. This program allows so much more flexibility.
I brag to everyone about how great this is. People always say, "That has to be so impersonal." But I think people do not understand what the classroom looks like — the Brady Bunch-style webcams and the work you do together. I have made friends in class that I am so excited to meet in February. We get along so well in class that we have to get along outside of it.
We invite you to learn more about the Nursing@Georgetown program, or call our admissions team at 1-877-910-4692.