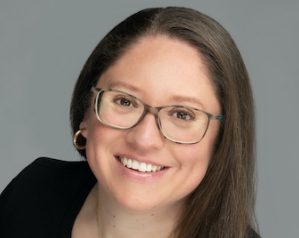 Melicia Escobar
Clinical Faculty Director, NM-WHNP
DNP, CNM, WHNP-BC, FACNM
Bio and Featured Works
(PRONOUNS: she/her) Dr. Escobar is a Latina, Philadelphia-based midwife/WHNP educator and clinician with experience in pregnancy and birth care across a variety of settings. She is passionate about midwifery, women's health, and developing robust and inclusive didactic and clinical curricula that illuminates health equity and the racism that undermines it. She believes that the midwifery model of care at its best offers innovative ways to improve the health and well-being of communities, address inequities within health care and health care professions, and grow out a diverse midwifery workforce.
She is currently the Program Director and Assistant Professor in Georgetown University's Nurse-Midwifery/WHNP & WHNP Programs. She is a 2020-2021 Gender+ Justice Initiative Fellow, a 2021 Inductee into the Fellowship of ACNM, and recipient of a 2021 March of Dimes Graduate Nursing Scholarship. She has published articles in peer-reviewed journals and midwifery textbooks. She is co-editor of Midwifery & Women's Health Nurse Practitioner Certification Review Guide.
Dr. Escobar is a Fellow and an active member of the American College of Nurse-Midwives (ACNM). She has most recently served as Treasurer on the board of the PA Affiliate of the ACNM and Chair of the ACNM Bylaws Committee. She is also a member Nurse Practitioners in Women's Health (NPWH) and American Public Health Association (APHA).
Clinically, Dr. Escobar is a midwife at Einstein Medical Center Montgomery (now part of Jefferson Health). She was previously a midwife at Children's Hospital of Philadelphia in the Special Delivery Unit and Center for Fetal Diagnosis and Treatment. She is a consultant for Midwife Y Maestra specializing in curriculum design and facilitation of customized anti-racism experiences for health care professionals.
Dr. Escobar is a graduate of Haverford College (BA, Anthropology), Georgetown University (BSN), and University of Pennsylvania's Nurse-midwifery/Women's Health Program (MSN), and Georgetown University (DNP).
Expertise
Midwifery, Nursing, Reproductive Health
Academic Appointment(s)
Primary
Appointment Pending – Instructor, SON – Nursing
Education
Georgetown Univ. – DNP, Nursing
University of Pennsylvania – MSN, Nurs Midwifery/Women Hlth NP
Georgetown Univ. – BSN, Nursing (Accelerated)
Haverford College – B.A., Anthropology