The 'Three Ps' of the Nurse Educator Program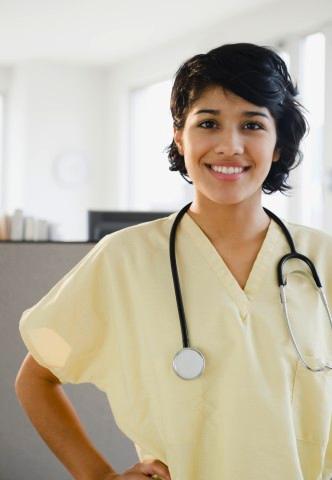 All Nursing@Georgetown students are required to take core courses covering advanced concepts in the "Three Ps" — Advanced Health Assessment (Physical,) Physiology and Pathophysiology, and Pharmacology. Together, they create a comprehensive picture of contemporary nursing practice.
These courses do more than prepare students to become advanced practice nurses; they provide a conceptual framework that allows graduates to keep up with advances in the field throughout their careers. This preparation is an integral part of each Nursing@Georgetown specialty, including the Nurse Educator program. This advanced knowledge of the "Three Ps" prepares nurse educators to share the most up-to-date research with the next generation of nurse leaders. Across the globe, nurse educators share their passion with others while shaping the future of health care.
A quick snapshot of the "Three Ps" in the Nursing@Georgetown curriculum:
Advanced Health Assessment (Physical)
This course provides an advanced understanding of how to evaluate a patient's physical condition. Nurses must be able to incorporate information from many different sources, such as examinations, medical records, lab reports, and verbal interviews, in order to evaluate patient health. Advanced Health Assessment teaches students how to integrate all of this information, reason toward a diagnosis, and make recommendations for better health and disease prevention.
Advanced Concepts in Physiology and Pathophysiology
Physiology is the science of how healthy organisms function, and pathophysiology is the science of how diseased organisms function. This course provides a conceptual framework for studies in physiology and pathophysiology, with special attention to real-world applications in nursing. Because of the vast and complex nature of the subject, emphasis is placed on making physiology and pathophysiology accessible to students, so that they can begin applying the concepts in their work while continuing to study throughout their careers.
Advanced Concepts in Pharmacology
Pharmacology is the science of drug preparation, use, and effects. This course provides an understanding of fundamental theories and concepts in pharmacology that are directly applicable to advanced practice nursing. In addition to equipping students with the knowledge necessary to practice as a nurse today, this course will instill an understanding of pharmacological principles applicable to drugs produced in the future.
Nursing@Georgetown offers specializations in the following fields:
We invite you to learn more about the Nursing@Georgetown program, or call our admissions team at 1-877-910-4692.